Lest we forget and pretend that the situation never occurred, the following is a chronology of the key developments in the Randolph County High School (Wedowee, Alabama) interracial prom dispute:
Feb. 24 -- The white principal, Hulond Humphries, tells students he may cancel the prom if interracial couples plan to attend. He allegedly tells mixed-race student ReVonda Bowen that her parents made a "mistake."
March 14 -- Following demonstrations, the Randolph County Board of Education votes to suspend Humphries pending an investigation.
March 15 -- Bowen, represented by the Southern Poverty Law Center, sues Humphries and the board.
March 31 -- The board votes 4-2 to reinstate Humphries, setting off new protests and a student boycott.
April 23 -- The prom is held, with Bowen and her white boyfriend in attendance. They also attend a counter-prom held at a National Guard Armory.
May 17 -- The Justice Department asks a judge to remove Humphries from his post, in part because of his alleged remark to Bowen.
June 15 -- A judge begins to mediate a settlement in the Justice Department lawsuit. A trial is scheduled for October.
June 21 -- Lawyers for Bowen and the board announce a settlement in which the board admits no wrongdoing and agrees to pay Bowen $25,000 for her college education.
Aug. 2 -- The Justice Department files a motion seeking Humphries' immediate removal and an immediate end to the school's "racially hostile environment."
Aug. 6 -- Fire destroys the high school.
Aug. 8 -- School board votes unanimously to reassign Humphries to work in an administrative position rebuilding the school. The board appoints a white man to succeed him and a black woman as a second assistant principal.
Many questions remain, however, such as who set the fire that gutted the building?
Why was the multiracial community's response to all the events nonexistent?
What will be the future of race relations in Randolph County?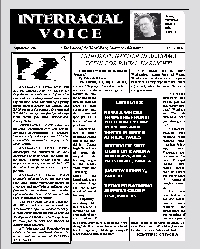 If, God forbid, a similar episode occurs in the future -- such as one where a mixed-race youth is labeled a "mistake" -- will the mixed-race community's response remain muted, or will we respond by putting some "troops on the ground" as soon as the story breaks? Don't hold your breath for that one.
As to who torched the Wedowee high school, it depends on who you ask. Most African-Americans and quite a few multiracial folks will quickly charge white supremacist elements such as the Ku Klux Klan or its sympathizers.
This flies into the face of logic and of this country's history of civil strife, however, going back to the Watts riots in Los Angeles nearly thirty years ago. The fact is, white supremacist bigots don't normally burn down establishments in their own neighborhoods where their own people eat, sleep, entertain themselves and educate their children. The Wedowee high school is 62 percent white and 38 percent black. Two-thirds of the town's 800 residents are white as well.
To be sure, though, supremacist elements were well represented in Wedowee before the fire. The school burned just hours before scheduled demonstrations by the Ku Klux Klan as well as the Southern Christian Leadership Conference.
Too, just before a prayer service on August 21 where whites and blacks gathered, attempting to foster racial harmony in beleaguered Wedowee, the Klan demonstrated in a nearby community and burned a cross as part of what it called a recruitment rally.
Klan presence does not absolve others of striking a match, however, just because the white sheet and hood crowd seems to have perfected it to an art form.
It has recently been reported by the Associated Press that former Milwaukee city alderman and current radio talk show host Michael McGee says he'll recruit blacks around the country to cut phone lines, burn tires on freeways and attack other institutions unless the government creates jobs, improves education and housing, and takes other steps against urban poverty by January 1.
McGee calls himself the leader of the "Black Panther Militia." A chapter of the militia was recently organized in, of all places, Wedowee, Alabama. The school burned hours after Mmoja Ajabu, McGee's handpicked "militia commander," addressed his recruits. Ajabu said he didn't know who burned the school down.
What passes for the organized multiracial community has had its hands firmly tucked underneath its collective derriere from day one of this story. Instead of viewing ReVonda Bowen as a living, breathing individual of mixed-race who had been wronged and who may have required comfort, support and solace, she was viewed more in the abstract light of a legal test case.
Certain persons were eager to see if any charges would be brought against Hulond Humphries after his allegedly referring to Ms. Bowen as a "mistake." The thought was that if he could be found to have deprived ReVonda of her civil rights in any way, that would provide extra pressure that could be brought to bear on OMB (Office of Management and Budget, which has the final say in establishing "official" racial classifications) to approve the multiracial category for the 2000 Census.
In other words, if a court had found that a mixed-race person's civil rights had been abridged in this case, wouldn't that also have, in effect, established the "legal reality" of such a multiracial grouping that the bean-counters in Washington would be forced to consider? It was a nice legal hypothesis, but it didn't work. Humphries and the school board settled out of court, ReVonda has $25,000 for her college education, and the multiracial community is still positioned with buttocks-on-hands. Opportunity missed!
As for the future of race relations in Randolph County, it's anybody's guess. If left in the hands of the younger generation, though, it might be a rosier one.
As a new year of classes began near burned-out Randolph County High School, Nikki O'Neal was ready for journalists to point their cameras at something other than her high school. The bubbly senior and some of her classmates hoped that all the fuss about race relations would end.
"If it hadn't been for the adults and the media, none of this would have ever come out," said O'Neal, 16, who is black. "Some of that's good, some of it's bad."
Many adults, however, are the ones who seemingly can't get it together. Even at the aforementioned August 21 prayer service, there was a certain amount of discord. Standing before a barren field that was the site of the Randolph County High School until arson destroyed the building, the mostly white group sang "Amazing Grace" and heard both black and white clergy call for a new mood of racial harmony. Some local black leaders criticized the service, however, saying white clergymen had organized it without consulting them.
"Many blacks didn't come because they resent the way this was set up. There are black ministers speaking, but they are not speaking for the whole community because they were not elected by the whole community," said the Rev Henry Sterling.
Several blacks who attended the prayer service did not share Sterling's concerns, though.
"If we had all gotten together before, maybe we never would have had these problems," said Judy Green.
The third leg of the racial triad was missing as the Wedowee saga unfolded. There were no members of this country's mixed-race community offering to mediate the immediate racial strife and division. We did not send a fact-finding committee to glean valuable information as to how we could be of future use along these lines. We did not feel compelled to show others that there is an alternative to the insane "race" game.
We did not offer succor to ReVonda.
Opportunity missed!
---